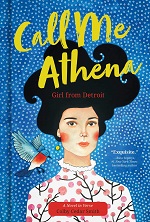 Call Me Athena, Girl from Detroit by Colby Cedar Smith
Genres: Verse, Historical Fiction
Mary lives in a tiny apartment in 1930s Detroit with her immigrant parents and her siblings, and she questions why her parents ever came to America. She yearns for love, to own a business, and to be an independent, modern American woman—much to the chagrin of her parents, who want her to be a "good Greek girl." Mary's story is peppered with flashbacks to her parents' childhoods in Greece and northern France; their stories connect with Mary as they address issues of arranged marriage, independence, and yearning to grow beyond one's own culture. They will each learn it takes courage to fight for tradition and heritage, as well as freedom, love, and equality.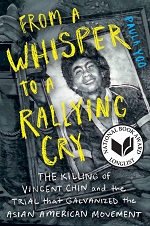 From a Whisper to a Rallying Cry: The Killing of Vincent Chin and the Trial That Galvanized the Asian American Movement by Paula Yoo
Genres: Nonfiction, History, True Crime 
America in 1982: Japanese car companies are on the rise and believed to be putting U.S. autoworkers out of their jobs. Anti–Asian American sentiment simmers, especially in Detroit. A bar fight turns fatal, leaving a Chinese American man, Vincent Chin, beaten to death at the hands of two white men. When the men pled guilty to manslaughter and received only a $3,000 fine and three years' probation, the lenient sentence sparked outrage. The protests that followed led to a federal civil rights trial—the first involving a crime against an Asian American—and galvanized the Asian American movement.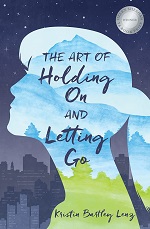 The Art of Holding On and Letting Go by Kristin Bartley Lenz
Genres: Realistic Fiction, Romance 
Competitive climber Cara Jenkins feels most at home clinging to a rock wall by her fingertips. She's enjoyed a roaming life with her mountaineering parents, making the natural world her jungle gym, the writings of Annie Dillard and Henry David Thoreau her textbooks. But when tragedy strikes on an Ecuadoran mountaintop, Cara's nomadic lifestyle comes to an abrupt halt. Starting over at her grandparents' home in suburban Detroit, Cara embarks on a year of discovery, uncovering unknown strengths, friendships, and first love. Cara's journey illustrates the transformative power of nature, love and loss, and discovering that home can be far from where you started.
Direwood by Catherine Yu
Genres: Horror, Paranormal
As the invisible sister in an otherwise all-white town, Aja has always felt like an outsider in her own life. But when a group of teens, including her older sister, goes missing following a series of strange events, Aja knows there is something inhuman at play, even if no one believes her. When a grotesque but seductive visitor appears at her window, Aja can barely resist his thrall, but is also aware that following him may be her only chance to save her sister. She then bargains with the vampire: if she can resist his thrall for one week in the vampiric nest in the woods, then he must allow her to live. Now Aja must discover a way to rescue her classmates from their captors, or she may be forced to join the monsters she seeks to destroy.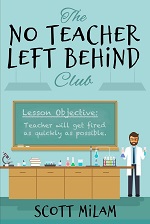 The No Teacher Left Behind Club: The True Race to the Bottom by Scott Milam
Genres: Humor, Realistic Fiction
What would you do if you were a teacher that wanted to get fired? How would you respond to emails, deal with rude students, and behave during staff meetings? Now imagine a school with eight teachers competing to get fired. This is what happens when Scott Miles, a snarky chemistry teacher in Plymouth, Michigan, joins a friendly pot put towards purchasing lottery tickets for him and 7 coworkers/friends. The group jokingly agree to give a double share of any large winnings to the first of them that can be fired. But with a growing teaching shortage in Michigan, what will it actually take for someone to get fired?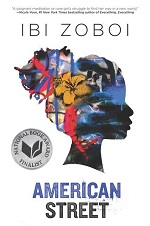 American Street by Ibi Zoboi
Genres: Realistic Fiction, Magical Realism
On the corner of American Street and Joy Road, Fabiola Toussaint thought she would finally find une belle vie—a good life. But after they leave Port-au-Prince, Haiti, Fabiola's mother is detained by U.S. immigration, leaving Fabiola to navigate her loud American cousins, Chantal, Donna, and Princess; the grittiness of Detroit's west side; a new school; and a surprising romance, all on her own. Just as she finds her footing in this strange new world, a dangerous proposition presents itself, and Fabiola soon realizes that freedom comes at a cost. Trapped at the crossroads of an impossible choice, will she pay the price for the American dream?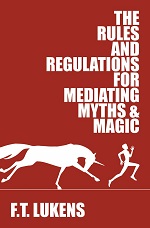 The Rules and Regulations for Mediating Myths & Magic by F. T. Lukens
Genres: Fantasy, Humor, Romance
Desperate to pay for college and escape Midden, Michigan, Bridger Whitt is willing to overlook the peculiarities of his new job—but it's pretty hard to ignore being pulled under Lake Michigan by…mermaids? Worse yet, this happens in front of his new crush, Leo, the dreamy football star who just moved to town. Fantastic. Now Bridger has discovered his eccentric employer is an intermediary between the human world and its myths, and he is plunged into a world of pixies, werewolves, and Sasquatch. But the realm of myths is growing increasingly unstable, and it is up to Bridger to fix whatever the problem is, while also keeping the real world from finding out myths are true.
Postcards from Summer by Cynthia Platt
Genres: Realistic Fiction, Romance

Lexi has always wanted to know more about her mother who passed away, but her dad prefers to "live in the present" and will barely talk about her. But when Lexi's grandma dies and leaves her a worn blue chest, Lexi is ecstatic to find a treasure trove of keepsakes from her mother's summers on Mackinac Island. If Lexi wants answers about her mother's past, the island is where she needs to go. Secreting away to follow in her mom's footsteps, Lexi soon finds herself falling in love with her surroundings and new friends. But though the island may be beautiful, it's hiding secrets–some with her mother at the center. Could some questions be best left buried beneath the blue waters?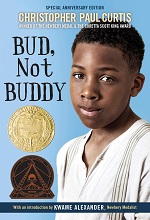 Bud, Not Buddy by Christopher Paul Curtis
Genres: Historical Fiction

It's 1936, in Flint, Michigan. Times may be hard, and ten-year-old Bud may be a motherless boy on the run, but Bud's got a three things going for him: 1. He has his own suitcase full of special things. 2. He's the author of Bud Caldwell's Rules and Things for Having a Funner Life and Making a Better Liar Out of Yourself. 3. His momma never told him who his father was, but she left a clue: flyers advertising Herman E. Calloway and his famous band, the Dusky Devastators of the Depression! Bud's got an idea that those flyers will lead him to his father. Once he decides to hit the road and find this mystery man, nothing can stop him–not hunger, not fear, not vampires, and not even Herman E. Calloway himself.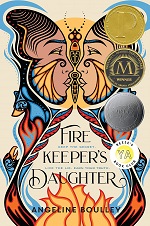 Firekeeper's Daughter by Angeline Boulley
Genres: Mystery, Thriller, Realistic Fiction

Daunis Fontaine has never belonged in her small Michigan hometown or on the nearby Ojibwe reservation. Then, everything shifts when she witnesses a murder, thrusting her into an FBI investigation of a lethal new drug. Reluctantly, Daunis agrees to go undercover, drawing on her knowledge of chemistry and Ojibwe medicine to track the source. But the search for truth is more complicated than Daunis imagined, and she quickly grows concerned with the investigation's focus on punishing offenders rather than protecting victims. Now, Daunis must learn what it means to be a strong Anishinaabe kwe and how far she'll go for her community, even if it tears her world apart.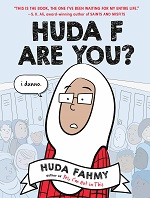 Huda F Are You? by Huda Fahmy
Genres: Graphic Novel, Humor
In her old town, Huda knew exactly who she was: She was the hijabi girl. But in her new home of Dearborn, Michigan, everyone is the hijabi girl. Huda is lost in a sea of hijabis, and she can't rely on her hijab to define her anymore. She has to define herself. So she tries on a bunch of cliques, but she isn't a hijabi fashionista or a hijabi athlete or a hijabi gamer. She's not the one who knows everything about her religion or the one all the guys like. She's miscellaneous, which makes her feel like no one at all. Until she realizes that it'll take finding out who she isn't to figure out who she is.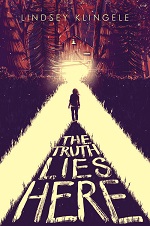 The Truth Lies Here by Lindsey Klingele
Genres: Science Fiction, Thriller

Penny, an aspiring journalist from small town Michigan, doesn't know where her conspiracy theorist father has disappeared to, and now several people have turned up dead in the woods. With the help of the boy-next-door and the town's star quarterback, Penny thinks she might be able to find her father and discover what is happening in Bone Lake. But the deeper she digs, the weirder things start to get: townspeople repeat the same phrases verbatim, men in black stroll down Main Street, and chunks of her memory go missing. Then Penny's research leads her to the site of a meteorite crash in the woods, and she's going to have to reconsider her definition of 'real' if she wants answers…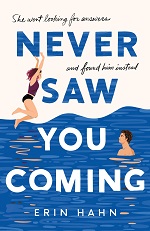 Never Saw You Coming by Erin Hahn
Genres: Romance, Realistic Fiction

Raised by conservative parents, Meg Hennessey just found out her entire childhood was a lie, leading her to travel to Michigan to meet the family she never knew existed. While there, she meets Micah Allen, a former pastor's kid whose dad went to prison, leaving Micah with a complicated relationship with the church. The clock is ticking on Pastor Allen's probation hearing and Micah feels the pressure to forgive–even when he can't possibly forget. As Meg and Micah grow closer, they discover first love and all the complications it brings. Together they must navigate the sometimes-painful process of cutting ties with childhood beliefs as they build toward something truer and straight from the heart.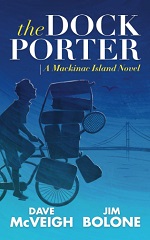 The Dockporter: A Mackinac Island Novel by Dave McVeigh
Genres: Historical Fiction, Humor

It's the summer of 1989. Jack McGuinn is a dockporter–he spends his days transporting tourists' luggage in the basket of his bike on Mackinac Island, a tiny summer resort where cars are outlawed and pedal-power rules. He's got it made: a family cottage on the bluff, a dream job, and a loyal crew of buddies. When his old friend-turned bitter rival challenges him to ride a record-setting load, he takes the bet and soon realizes he's not just carrying suitcases, he's carrying the future of the island, which is about to be paved over for profit. With the help of his pals on the dock and the love of a romantic, free-spirited Irish cellist named Erin, Jack digs deep to discover skills he didn't know he had.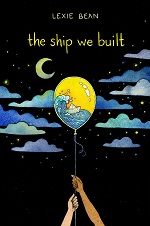 The Ship We Built by Lexie Bean
Genres: Historical Fiction, Realistic Fiction

Rowan, an Upper Peninsula preteen in the 1990s, has too many secrets to write down in a diary. He understands his gender, but it's not safe for others to find out. The kids at school say he's not the "right kind" of girl, and he's not the "right kind" of boy. His mom ignores him. And at night, his dad hurts him in ways he's not ready to talk about yet. But Rowan discovers another way to share his secrets: letters. Letters he attaches to balloons and releases into the universe, hoping someone will read them and understand. But when he befriends a classmate who knows what it's like to be lonely and scared, Rowan realizes that there might already be a person he can trust right by his side.
All descriptions adapted from the catalog. ck 03/4/2022. updated 7/24/2022.