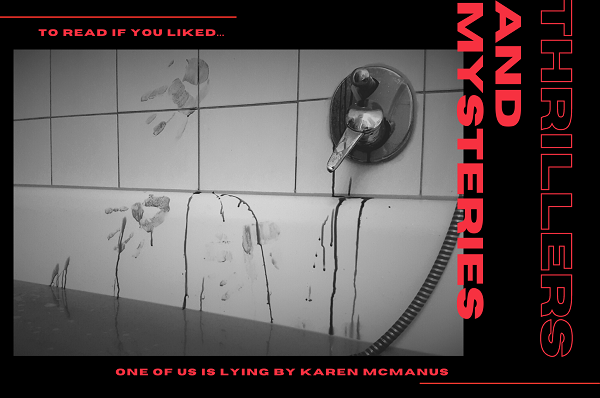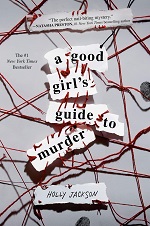 A Good Girl's Guide to Murder by Holly Jackson 
Everyone in Fairview knows the story. Andie Bell was murdered by her boyfriend, Sal Singh, who then killed himself. It was all anyone could talk about. And five years later, Pip sees how the tragedy still haunts her town. But she can't shake the feeling that there was more to what happened that day. She knew Sal, and he was always so kind. How could he possibly have been a killer? Now a senior herself, Pip decides to reexamine the closed case for her final project. But soon she discovers a trail of dark secrets that might actually prove Sal innocent, and the line between past and present begins to blur. Someone in Fairview doesn't want Pip digging around for answers, and now her own life might be in danger.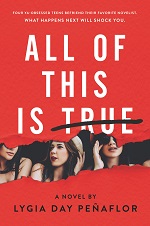 All of This Is True by Lygia Day Peñaflor
Miri Tan loved the book Undertow like it was a living being. So when she and her friends, Soleil and Penny, went to a book signing to meet the author, Fatima Ro, they concocted a plan to get close to her. Soleil Johnston wanted to be a writer herself one day, so she couldn't believe her luck when she and her friends started hanging out with their favorite author–especially when Jonah Nicholls started hanging out with them, too. Penny Panzarella was more than the materialist party girl everyone at the Graham School thought she was–and she was willing to share all her secrets with Fatima Ro to prove it. Jonah Nicholls had more to hide than any of them. And now that Fatima's next book is out in the world, he's the one who is paying the price…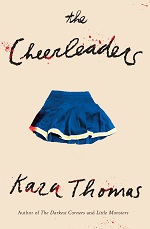 The Cheerleaders by Kara Thomas
There are no more cheerleaders in the town of Sunnybrook. First there was the car accident. Not long after, the murders happened. Monica's sister was the last cheerleader to die. After her suicide, Sunnybrook High disbanded the cheer squad. That was five years ago and now Sunnybrook finally want to remember the lost cheerleaders. But Monica just wants to forget. Only, Monica's world is starting to unravel. There are the letters in her stepdad's desk, a years-old cell phone, a strange new friend at school–whatever happened five years ago isn't over. Some people in town know more than they're saying. And somehow, Monica is at the center of it all. There are no more cheerleaders in Sunnybrook, but that doesn't mean anyone is safe.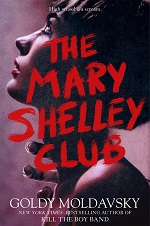 The Mary Shelley Club by Goldy Moldavsky 
New girl and scholarship student Rachel Chavez turns to horror movies for comfort, preferring stabby serial killers and homicidal dolls to the bored rich kids of Manhattan Prep…and to certain memories she'd preferred to keep buried. When her proximity to a prank involving a popular student gains her the kind of notoriety she doesn't want, she also catches the attention of the Mary Shelley Club, a mysterious society of students who orchestrate Fear Tests–elaborate pranks inspired by urban legends and movie tropes. At first, Rachel embraces the power that comes with reckless pranking. But as the Fear Tests escalate, the competition turns deadly, and it's clear Rachel is playing a game she can't afford to lose.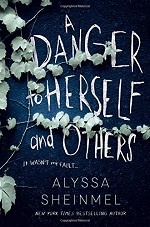 A Danger to Herself and Others by Alyssa B. Sheinmel 
Hannah knows there's been a mistake. She doesn't need to be institutionalized. What happened to her roommate at that summer program was an accident. As soon as the doctors and judge figure out that she isn't a danger to herself or others, she can go home to start her senior year. Until then, she's determined to win over the staff and earn some privileges so she doesn't lose her mind to boredom. Then Lucy arrives. Lucy has her own baggage, and she's the perfect project to keep Hannah's focus off all she is missing at home. But Lucy may be the one person who can get Hannah to confront the secrets she's avoiding–and the dangerous games that landed her in confinement in the first place.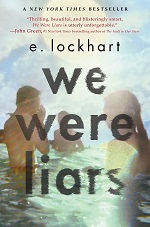 We Were Liars by E. Lockhart 
The Sinclairs are all intelligent, wealthy, and beautiful. But, they are liars.
17-year-old Cadence Sinclair has always loved summering on her family's private island with her cousins and the boy she loves, but two years ago, she had a mysterious accident that changed everything, including Cadence. Unfortunately, due to trauma and amnesia, Cadence can't remember what happened to her. With migraines and pills clouding her mind, Cadence is finally returning to the island for the first time since the accident, determined to recover and maybe discover the truth. But can her family withstand their lies being exposed?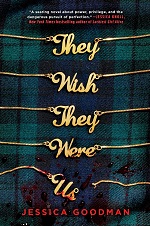 They Wish They Were Us by Jessica Goodman
In Gold Coast, Long Island, everything looks perfect, but Jill Newman knows it's not. Freshman year Jill's best friend, the brilliant, dazzling Shaila Arnold, was killed by her boyfriend. After that dark night on the beach, Graham confessed, the case was closed, and Jill tried to move on. Now, it's Jill's senior year and she's determined to make it her best yet. After all, she's a senior and a Player–a member of a not-so-secret secret society. This is going to be Jill's year. She's sure of it. But when Jill starts getting texts proclaiming Graham's innocence, her dreams of the perfect senior year start to crumble. If Graham didn't kill Shaila, who did? Jill vows to find out, but digging deeper could mean putting her friendships, and her future, in jeopardy.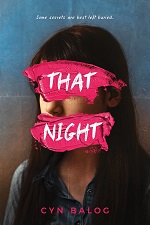 That Night by Cyn Balog
It's been a year since Hailey's boyfriend Declan died, and Hailey still isn't okay. Everyone says Declan's death was a suicide, but Hailey knows that Declan would never do that. The problem is, she can't remember anything from the day he died. Kane, Declan's stepbrother and Hailey's best friend, thinks that everyone should move on–why relive the pain? But when Hailey sees a strange picture with a threatening message amongst Declan's belongings, she's convinced she has proof that there's more to the story. Hailey starts searching for answers and throws herself into memories her subconscious tried to make her forget. But the truth she uncovers will be more dangerous and more devastating than she could have ever imagined.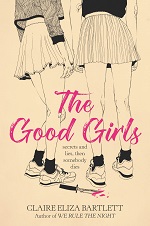 The Good Girls by Claire Eliza Bartlett 
The troublemaker. The overachiever. The cheer captain. The dead girl. Like every high school in America, Jefferson-Lorne High contains all of the above. After the shocking murder of good girl Emma Baines, three of her classmates are at the top of the suspect list: Claude, the notorious partier; Avery, the head cheerleader; and Gwen, the would-be valedictorian. But appearances are never what they seem and the truth is always more complicated than these labels. And the truth behind what really happened to Emma may just be lying in plain sight, despite the police's unwillingness to believe the girls. As long buried secrets come to light, the clock is ticking to find Emma's killer–before another good girl goes down.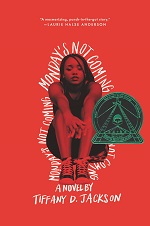 Monday's Not Coming by Tiffany D. Jackson 
Monday Charles is missing, and only Claudia seems to notice. Claudia and Monday have always been inseparable–more sisters than friends. So when Monday doesn't turn up for the first day of school, Claudia's worried. Monday wouldn't just leave her to endure tests and bullies alone. Not after last year's rumors and not with her grades on the line. Now Claudia needs her best–and only–friend more than ever. But Monday's mother refuses to give Claudia a straight answer, and Monday's sister April is even less help. As Claudia digs deeper into her friend's disappearance, she discovers that no one seems to remember the last time they saw Monday. How can a teenage girl just vanish without anyone noticing that she's gone?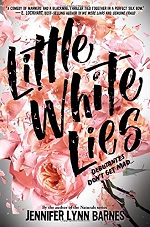 Little White Lies by Jennifer Lynn Barnes 
Eighteen-year-old auto mechanic Sawyer Taft did not expect her estranged grandmother to offer her a six-figure contract to participate in debutante season. And she definitely never imagined she would accept. But when she realizes that immersing herself in her grandmother's "society" might mean discovering her father's identity–she signs on the dotted line and braces herself for a year of big dresses and bigger egos. The one thing she doesn't expect to find is friendship, but she's soon drawn into a group of debutantes with scandalous secrets of their own. As she navigates the twisted relationships between her new friends and their powerful parents, Sawyer's search for the truth is just the beginning.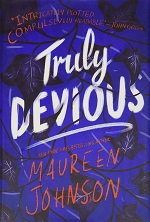 Truly Devious by Maureen Johnson 
True-crime aficionado Stevie Bell is set to begin her first year at Ellingham Academy, and she has an ambitious plan: She will solve one of the most famous cold cases in America. You see, Ellingham was founded by the puzzle-loving Albert Ellingham, whose wife and daughter were kidnapped shortly after the academy opened. The only real clue left was a mocking riddle listing methods of murder, signed with the frightening pseudonym "Truly, Devious." And Stevie will solve the case, just as soon as she gets a grip on her demanding school life and new housemates. But then something strange begins happening. Truly Devious makes a surprise return, and death revisits Ellingham Academy. The past has crawled out of its grave.
All descriptions adapted from the catalog. ck 2/16/2022.