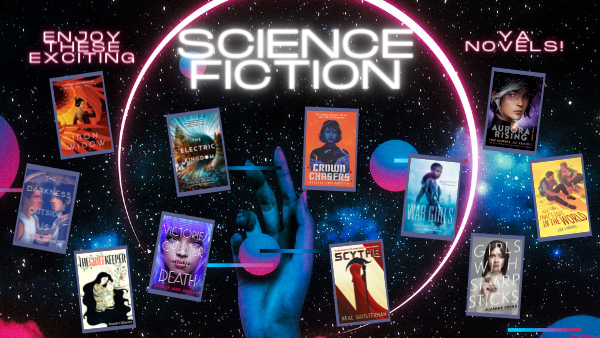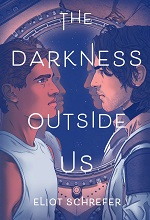 The Darkness Outside Us by Eliot Schrefer
Two boys, alone in space. Sworn enemies sent on the same rescue mission. Ambrose wakes up on the Coordinated Endeavor with no memory of a launch. There's more that doesn't add up: evidence indicates strangers have been on board, the ship's operating system is voiced by his mother, and his handsome, brooding shipmate has barricaded himself away. But nothing will stop Ambrose from making his mission succeed–not when he's rescuing his own sister. In order to survive the ship's secrets, Ambrose and Kodiak will need to work together and learn to trust each other…especially once they discover what they are truly up against. Love might be the only way to survive.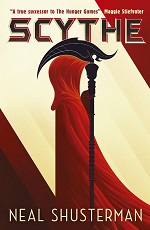 Scythe by Neal Shusterman
A world with no hunger, no disease, no war, no misery. Humanity has conquered all of these things, and has even conquered death. People have nanites in their blood that heal them and mask pain and, if they do die, they can be revived quickly and painlessly. Now, appointed scythes are the only ones who can end life—and they are commanded to do so, in random gleanings, in order to keep the size of the world's population under control. Two teenagers, Citra and Rowan, have been chosen to apprentice to the honorable Scythe Faraday—a role that neither wants. These teens must now master the "art" of taking life, knowing that the consequence of failure could mean losing their own.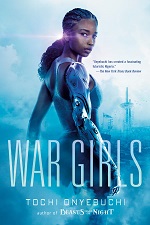 War Girls by Tochi Onyebuchi
The year is 2172. Climate change and nuclear disasters have rendered much of earth unlivable. Only the lucky ones have escaped to space colonies in the sky.
Back on land in a war-torn Nigeria, battles are fought using flying, deadly mechs and soldiers are outfitted with bionic limbs and artificial organs meant to protect them from the harsh, radiation-heavy climate. Across the nation, as the years-long civil war wages on, just trying to survive becomes the only way of life. But two sisters, Onyii and Ify, dream of more. Their lives have been marked by violence and political unrest. Still, they dream of peace, of hope, of a future together. And they're willing to fight an entire war to get there.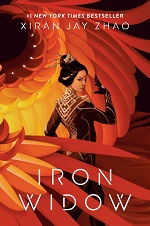 Iron Widow by Xiran Jay Zhao
The boys of Huaxia dream of pairing up with girls to pilot Chrysalises, giant robots that can battle the aliens that lurk beyond the Great Wall–it doesn't matter to them that girls often die from the mental strain. When Zetian offers herself up as a pilot and instead uses the psychic link to kill a male pilot she has a vendetta against, she is revealed to be a kind of female pilot who can sacrifice boys to power up Chrysalises instead.​ To help tame her rare mental strength, she is paired up with Li Shimin, the strongest and most controversial male pilot​. But now that Zetian has had a taste of power, she will not bend so easily. She will miss no opportunity to figure out exactly why the pilot system kills girls so she can save any more from being sacrificed.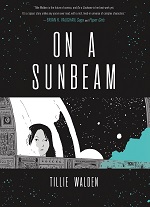 On a Sunbeam by Tillie Walden
In a far-future, throughout the deepest reaches of space, a crew rebuilds beautiful and broken-down structures, painstakingly putting the past together as they restore. Young adult Mia starts a new life by joining this crew, and as they work and grow closer, the crew becomes something like her family. But Mia's story did not begin here. It also began five years ago, when during a pivotal year at boarding school, she met mysterious new student Grace. Mia and Grace fell in love, but they were soon traumatically separated. Now Mia is in space millions of miles away from that school–can she finally find her way back to Grace?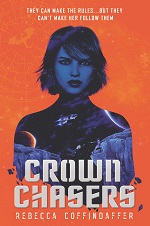 Crownchasers by Rebecca Coffindaffer
Alyssa Farshot has spent her entire life trying to outrun her family legacy. Why would she choose to be trapped in a palace when she could be exploring a thousand-and-one planets in her ship? But when Alyssa's uncle becomes gravely ill, his dying wish surprises the entire galaxy. Instead of naming her as his successor as everyone expected, he calls for a crownchase. Representatives from each of the empire's prime families—including Alyssa—are thrown into a race to find the royal seal to win the throne. Alyssa's exploring experience make her a frontrunner, and though she doesn't want to be empress, her duty to her uncle compels her to participate. But when the chase turns deadly, it's clear that more than just the fate of the empire is at stake.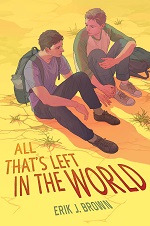 All That's Left in the World by Erik J. Brown
When Andrew stumbles upon Jamie's house, he has nothing left to lose. A deadly pathogen has killed off most humans, and if this new world has taught Jamie and Andrew anything, it's to be scared of other desperate people…so why does it seem so easy for them to trust each other? Soon they set out on a journey to find civilization together, but Andrew's story doesn't seem to add up and Jamie has a secret, too. He's starting to feel something more than friendship for Andrew, adding another complex layer to an already tumultuous journey. But the road ahead of them is long, and to survive, they'll have to shed their secrets and fight for the future. Only one thing feels certain: all that's left in their world is the undeniable pull between them.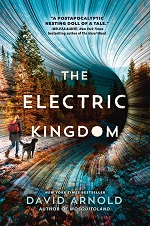 The Electric Kingdom by David Arnold
When a deadly Fly Flu sweeps the globe, it leaves a shell of the world that once was. Among the survivors are eighteen-year-old Nico and her dog, on a voyage devised by Nico's father to find a mythical portal; a young artist named Kit, raised in an old abandoned cinema; and the enigmatic Deliverer, who lives Life after Life in an attempt to put the world back together. As swarms of infected Flies roam the earth, these few survivors navigate the woods of post-apocalyptic New England, meeting others along the way, each on their own quest to find life and love in a world gone dark. The Electric Kingdom is a sweeping exploration of art, storytelling, eternal life, and above all, a testament to the notion that even in an exterminated world, one person might find beauty in another.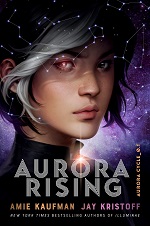 Aurora Rising by Amie Kaufman
The year is 2380, and the graduating cadets of Aurora Academy are being assigned their first missions. Star pupil Tyler Jones is ready to recruit the squad of his dreams, but his own boneheaded heroism sees him stuck with the dregs nobody else in the academy would touch. And Ty's squad isn't even his biggest problem–that'd be Aurora Jie-Lin O'Malley, the girl he's just rescued from interdimensional space. Trapped in cryo-sleep for two centuries, Auri is a girl out of time and out of her depth. But she could be the catalyst that starts a war millions of years in the making, and Tyler's squad of losers, discipline cases, and misfits might just be the last hope for the entire galaxy. So. Nobody panic?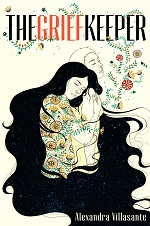 The Grief Keeper by Alexandra Villasante
Marisol has always dreamed of being American, though she never pictured fleeing her home in El Salvador and stealing across the US border as an "illegal." But after Marisol fell for the charms of a beautiful girl, her brother was murdered and her family severely endangered, so Marisol and her sister are forced to run. With truly no options remaining after being caught and denied asylum in America, Marisol jumps at an unusual opportunity to stay in the country. She's asked to become a grief keeper, taking someone else's grief into her own body. It's a risky experiment but if it means Marisol can keep her sister safe, she will risk anything. She just never imagined one of the risks would be finding a love that may be powerful enough to finally help her face her own crushing grief.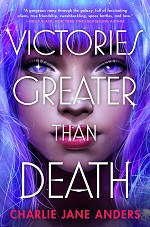 Victories Greater Than Death by Charlie Jane Anders
Tina has always known that she's not just an average teenager. She's also the keeper of an interplanetary rescue beacon, and one day soon, it's going to activate and her dreams of adventuring to save the universe will finally be possible. Tina's legacy, after all, is intergalactic–she is the hidden clone of a famed alien hero, left on Earth to give the universe another chance to defeat evil. But when the beacon activates, things are far more dangerous than Tina ever knew–and everyone in the galaxy is expecting her to actually be the legendary savior Captain Thaoh Argentian, but Tina is…just Tina. And her side is losing the war–badly. Luckily, Tina is surrounded by a crew she can trust, and she is still determined to save all the worlds. But first she'll have to save herself.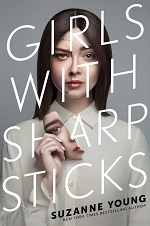 Girls With Sharp Sticks by Suzanne Young
The Girls of Innovations Academy are beautiful and well-behaved–it says so on their report cards. Under the watchful gaze of their all-male teachers, hulking Guardians, and doctors, the daughters of the wealthy and well-connected receive a well-rounded education that promises to make them better. Obedient girls, free from arrogance or defiance. Free from troublesome opinions or individual interests. But the girls' carefully controlled existence may not be quite as it appears. Desperate for more mental stimulation than their classes on beauty provide, Mena and her friends come to uncover the dark secrets of what's actually happening at Innovations Academy–and who they really are. Now they just need to learn how to fight back.
All descriptions adapted from the catalog. ck 5/12/2022.