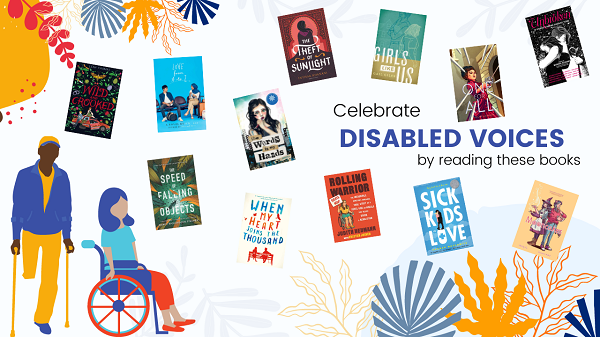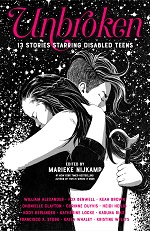 Unbroken: 13 Stories Starring Disabled Teens edited by Marieke Nijkamp
Genres: Short Stories, Anthology
Representation: General
This anthology explores disability in fictional tales told from the viewpoint of disabled characters, written by disabled creators. With stories in various genres about first loves, friendship, war, travel, and more, Unbroken will offer today's teen readers a glimpse into the lives of disabled people in the past, present, and future. The contributing authors are award winners, bestsellers, and newcomers, and each author identifies as disabled along a physical, mental, or neurodiverse axis―and their characters reflect this diversity.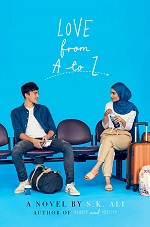 Love from A to Z by S. K. Ali
Genres: Romance, Realistic Fiction
Representation: Multiple Sclerosis
Zayneb was just suspended for standing up to her Islamophobic teacher, but now she's on her way to Qatar to visit her cool aunt Nandy and forget about her troubles. On the flight, Zayneb meets Adam, who converted to Islam after his mom—Auntie Nandy's best friend—died from multiple sclerosis. Enamored with each other, Adam and Zayneb begin to share their stories: Adam is keeping his MS diagnosis a secret, Zayneb hasn't shared with her aunt why she's been suspended, and both are mourning loved ones. Slowly, they fall in love, but their different approaches to racism and pain threaten to drive them apart.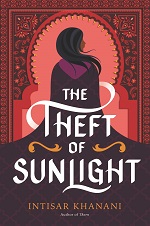 The Theft of Sunlight by Intisar Khanani
Genres: Fantasy, Mystery, Romance
Representation: Limb Difference, Chronic Pain
Children have been disappearing for longer than anyone can remember. When her friend's sister is snatched, Rae knows she can't look away any longer–even if that means seeking answers from the royal court, where her country upbringing and clubfoot will only invite ridicule. But surprisingly, she discovers an ally in the foreign princess, who recruits her as an attendant. Armed with the princess's support, Rae seeks answers in the dark city streets, finding unexpected help from a street thief with secrets of his own. But treachery runs deep, and the more Rae uncovers, the more she endangers the kingdom itself.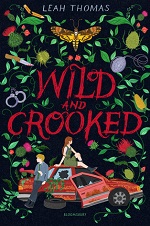 Wild and Crooked by Leah Thomas
Genres: Realistic Fiction
Representation: Cerebral Palsy
In Samsboro, Kentucky, Kalyn Spence's name is inseparable from the brutal murder her father committed when he was a teenager. Forced to return to town, Kalyn must attend school under a pseudonym to avoid the anger of those who refuse to forget. Gus Peake is either known as the "disabled kid" because of his cerebral palsy, or as the kid whose dad was murdered. When he meets Kalyn, her frankness is refreshing, and they form a deep friendship. Then their families' pasts emerge, and the "truth" is questioned. Can Kalyn and Gus break free from their family legacies and chart their own paths forward?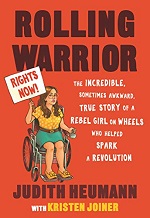 Rolling Warrior : The Incredible, Sometimes Awkward, True Story of a Rebel Girl on Wheels Who Helped Spark a Revolution by Judith E. Heumann
Genres: Nonfiction, Biography
Representation: Wheelchair User, Polio
In this young readers' edition of her acclaimed memoir, Judy Heumann shares her journey of battling for equal access in an unequal world–from fighting to be allowed to attend grade school, to suing for the right to a teacher's license. Judy eventually went on to lead 150 disabled people in the longest sit-in protest in US history, in which the group risked their lives to win the world's attention and civil rights legislation for disabled people. Judy's bravery and perseverance will speak to every person fighting for respect.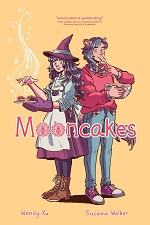 Mooncakes by Suzanne Walker
Genres: Graphic Novel, Fantasy, Romance
Representation: Hearing Loss
Nova Huang knows more about magic than your average teen witch. She works at her grandmothers' bookshop, where she helps them loan out spell books and investigate any supernatural occurrences in their New England town. One fateful night, she follows reports of a white wolf into the woods, and she comes across the unexpected: her childhood crush, Tam Lang, battling a demon in the woods. As a werewolf, Tam has been wandering from place to place for years, unable to call any town home. Pursued by dark forces and out of options, Tam turns to Nova for help.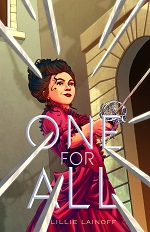 One for All by Lillie Lainoff
Genres: Historical Fiction, Retelling
Representation: Postural Orthostatic Tachycardia Syndrome
Tania de Batz has always had lofty aspirations, despite her near-constant dizziness. When Papa is murdered, his dying wishes are for Tania to be sent to L'Académie des Mariées. Disguised as a finishing school, it's actually a secret training ground for Musketeers: women who are socialites on the surface, but are secretly protecting France. Tania finally feels that she has a purpose, but then she meets Étienne, her target. He's kind, charming–and might know what really happened to her father. Torn between duty and emotion, Tania will have to decide where her loyalties lie or risk losing everything.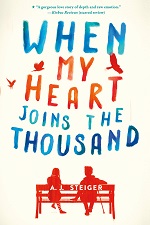 When My Heart Joins the Thousand by A. J. Steiger
Genres: Romance, Realistic Fiction
Representation: Autism, Walking Aid, Osteogenesis Imperfecta
If Alvie Fitz can just make it to her birthday without any mishaps, she'll be legally emancipated and free from the threat of being sent back to a group home. All she wants is to spend time with the one-winged hawk at the zoo where she works. Then she meets Stanley, a boy who might be even stranger than she is–a boy who walks with a cane, has a new injury every day, and whose body is as fragile as glass. Almost by accident, they become close. But Alvie's past stalks her with every step, and it has sharp teeth. If only she can find the strength to face the enemy inside her, maybe she'll have a chance at happiness after all.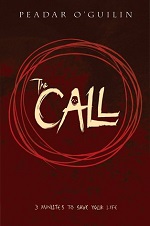 The Call by Peadar Ô Guilin
Genres: Horror, Dystopia
Representation: Walking Aid, Polio
The Sídhe are magical beings who were banished from Ireland to live in a hellish netherworld long ago. Seeking revenge, the Sídhe now kidnap Ireland's youth via the Call: the dreaded moment when an adolescent simply disappears and lands in a horrifically deadly underworld full of monsters. This means the Call is the moment every young person trains to survive, even grimly determined Nessa Doherty, who is disabled from polio and can only navigate the training on crutches. One by one, students vanish, sometimes forever. Can Nessa be one of the few to survive the Call?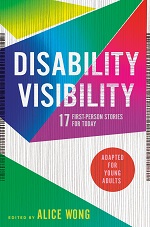 Disability Visibility : 17 First-Person Stories for Today – Adapted for Young Adults by Alice Wong
Genres: Nonfiction, Anthology
Representation: General
The eye-opening essays in Disability Visibility, all written by disabled people, offer keen insight into the complex and rich disability experience, examining life's ableism and inequality, its challenges and losses, and celebrating its wisdom, passion, and joy. The accounts in this collection ask readers to think about disabled people not as individuals who need to be "fixed," but as members of a community with its own history, culture, and movements. They offer diverse perspectives that speak to past, present, and future generations.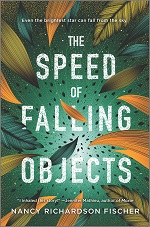 The Speed of Falling Objects by Nancy Richardson Fischer
Genres: Survival, Romance
Representation: Traumatic Injury, Vision Loss
Danny Warren lost an eye in a childhood accident, and she had to relearn her perception of movement and space. Now Danny keeps her head down and works to fulfill everyone else's needs. She's certain that her mom's bitterness and her famous father's absence are her fault. When her dad offers for her to join him on his survivalist TV show, Danny jumps at the chance to prove herself. Being on set with the hottest teen idol, Gus Price, is just the cherry on top. But when their plane crashes in the Amazon, and a terrible secret is revealed, Danny must face the truth about her father and find her own inner strength.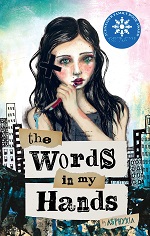 The Words in My Hands by Asphyxia
Genres: Science Fiction
Representation: Hearing Loss
Sixteen-year-old Piper is tired of trying to conform. Her mom wants her to be "normal," to pass as hearing, to get a good job. But in a near-future Australia plagued by food scarcity, environmental collapse, and political corruption, Piper has other things on her mind–like survival. Piper has always been told that she needs to compensate for her Deafness in a world not made for her. But when she meets Marley and his deaf mother, a new world opens up–one where Deafness is something to celebrate, and where resilience means taking action, building a community, and believing in something better and worth saving.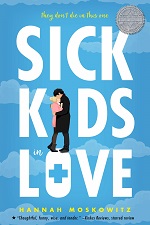 Sick Kids in Love by Hannah Moskowitz
Genres: Romance, Realistic Fiction
Representation: Arthritis, Gaucher Disease
Isabel has one rule: no dating. It's easier, it's safer, and it's better–for the other person. She's got issues. She's got secrets. She's got rheumatoid arthritis. But then she meets another sick kid. He's got a chronic illness Isabel's never heard of, something she can't even pronounce. He understands what it means to be sick. He understands her more than her healthy friends. He understands her more than her own father who's a doctor. He's gorgeous, fun, and foul-mouthed. And totally into her. Isabel has one rule: no dating. It's complicated–it's dangerous–it's never felt better–to consider breaking that rule for him.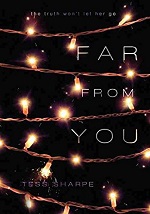 Far From You by Tess Sharpe
Genres: Mystery 
Representation: Traumatic Injury, Addiction
Sophie Winters came out of her first near-death experience with a bad leg and a pill addiction, but the second time, she lost everything. She and her best friend, Mina, were violently attacked, and Mina died. The cops insist it was drug-related, despite Sophie being clean. After a forced rehab stint, Sophie returns home to find her life in tatters and no one willing to help her discover the killer's identity. But with every step, Sophie comes closer to revealing all: about herself, about Mina—and about the secret they shared.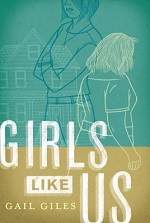 Girls Like Us by Gail Giles
Genres: Realistic Fiction
Representation: Learning Differences, Traumatic Injury
Quincy and Biddy are both graduates of their high school's special ed program, but they couldn't be more different: suspicious Quincy faces the world with her fists up, while gentle Biddy is frightened to step outside her front door. When they're thrown together as roommates in their first 'real world' apartment, it initially seems to be an uneasy fit. But as Biddy's past resurfaces and Quincy faces a harrowing experience that no one should go through alone, the two of them realize that they might have more in common than they thought–and more importantly, that they might be able to help each other move on.
Further Resources:
All descriptions adapted from the catalog. ck 02/21/2022. edited 06/10/2022.