Six Crimson Cranes by Elizabeth Lim
Genres: Fantasy, Retelling, Romance
Shiori'anma has forbidden magic runs through her veins. Normally she conceals it well, but on the morning of her betrothal ceremony, Shiori loses control and catches the attention of Raikama, her stepmother. A sorceress in her own right, Raikama banishes the young princess, turning her brothers into cranes. She warns Shiori that she must speak of it to no one: for with every word that escapes her lips, one of her brothers will die. Penniless, voiceless, and alone, Shiori searches for her brothers, and uncovers a dark conspiracy to seize the throne. Only Shiori can set the kingdom to rights, but to do so she must embrace the magic she's been taught all her life to forswear–no matter what the cost.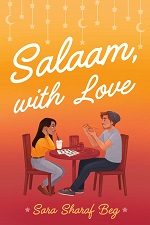 Salaam, With Love by Sara Sharaf Beg
Genres: Romance, Realistic Fiction
Being crammed into a house in Queens with her cousins is not how Dua envisions her trip to New York City. But here she is, spending the holy month of Ramadan with extended family she hasn't seen in years. Dua struggles to find her place in the conservative household and to connect with her aloof cousin, Mahnoor. And as if fasting the whole day wasn't tiring enough, she must battle her hormones whenever she sees Hassan, the cute drummer in a Muslim band who has a habit of showing up at her most awkward moments. After just a month, Dua is surprised to find that she's learning a lot more than she bargained for about her faith, relationships, her place in the world–and cute drummers…
The Lightning Thief by Rick Riordan
Genres: Fantasy, Adventure
Percy Jackson is a good kid, he just wasn't thriving at boarding school. Then his pre-algebra teacher turned into a monster and tried to kill him..? When Percy's mom finds out, she knows it's time that he knew the truth and go to the one place he'll be safe. She sends Percy to Camp Half Blood, a summer camp for demigods (on Long Island), where he learns that the father he never knew is Poseidon, god of the sea. Soon a mystery unfolds and together with his friends–one a satyr and the other the demigod daughter of Athena–Percy sets out on a quest across the United States to reach the gates of the Underworld and prevent a catastrophic war between the gods.
Brown Girl Dreaming by Jacqueline Woodson
Genres: Memoir, Verse
Raised in South Carolina and New York, Jacqueline Woodson always felt halfway home in each place. In vivid poems, she shares what it was like to grow up as an African American in the 1960s and 1970s, living with the remnants of Jim Crow and her growing awareness of the Civil Rights movement. Touching and powerful, each poem is both accessible and emotionally charged, each line a glimpse into a child's soul as she searches for her place in the world. Woodson's eloquent poetry also reflects the joy of finding her voice through writing, despite the fact that she struggled with reading as a child. Her love of stories inspired her and stayed with her, creating the first sparks of the gifted writer she was to become.
Cinder by Marissa Meyer
Genres: Fantasy, Science Fiction, Romance, Retelling
Humans and androids crowd the raucous streets of New Beijing. A deadly plague ravages the population. From space, a ruthless lunar people watch, waiting to make their move. No one knows that Earth's fate hinges on one girl: Cinder, a gifted mechanic and a cyborg. She's a second-class citizen with a mysterious past, reviled by her stepmother and blamed for her stepsister's illness. But when her life becomes intertwined with the handsome Prince Kai's, she suddenly finds herself at the center of an intergalactic struggle, and a forbidden attraction. Caught between duty and freedom, loyalty and betrayal, she must uncover secrets about her past in order to protect her world's future.
Love & Gelato by Jenna Evans Welch
Genres: Romance, Realistic Fiction
Lina is spending the summer in Tuscany, but she isn't in the mood for Italy's famous charms. She's only there because it was her mother's dying wish that she get to know her father. But what kind of father isn't around for sixteen years? All Lina wants to do is get back home–until Lina is given her mother's journal from when she lived in Italy. Inspired by her mother's past, Lina, along with the ever-so-charming Ren, begins to follow in her mother's footsteps and unearth a secret that has been kept from Lina for far too long. It's a secret that will change everything she knew about her parents–and herself. People come to Italy for love and gelato, but sometimes they discover much more.
The Ruins of Gorlan by John Flanagan
Genres: Fantasy, Adventure
They have always scared him in the past–the Rangers, with their dark cloaks and shadowy ways. The villagers believe the Rangers practice magic that makes them invisible to ordinary people. And now 15-year-old Will, always small for his age, has been chosen as a Ranger's apprentice. What he doesn't yet realize is that the Rangers are the protectors of the kingdom. Highly trained in the skills of battle and surveillance, they fight the battles before the battles reach the people. And as Will is about to learn, there is a large battle brewing. The exiled Morgarath, Lord of the Mountains of Rain and Night, is gathering his forces for an attack on the kingdom. This time, he will not be denied…
The Selection by Kiera Cass
Genres: Fantasy, Science Fiction
In a dystopian future, the United States is a monarchy split into a rigid caste system of eight ranks: 8 (royalty) down to 1 (untouchables). For thirty-five girls, the Selection is the chance of a lifetime. The reality TV competition is the opportunity to escape their caste, live in a palace, and compete for the heart of gorgeous Prince Maxon. But for America Singer, being Selected is a nightmare. It means turning her back on her secret love with Aspen, the boy next door who is a caste below her, and competing for a crown she doesn't want. Then America meets Prince Maxon–and realizes that the life she's always dreamed of may not compare to a future she never imagined.
The Downstairs Girl by Stacey Lee
Genres: Historical Fiction, Romance
By day, Jo Kuan works as a lady's maid. But by night, Jo moonlights as the pseudonymous author of the newspaper advice column "Dear Miss Sweetie." When her column becomes wildly popular, she uses the platform to address some of society's ills, but she's not prepared for the backlash that follows when she challenges fixed ideas about race and gender. While her opponents clamor to uncover the secret identity of Miss Sweetie, a mysterious letter sets Jo off on a search for her own past and the parents who abandoned her. But when her efforts put her in the crosshairs of Atlanta's most notorious criminal, Jo must decide whether she is ready to abandon the shadows and step into the light.
Shuri by Nic Stone
Genres: Superhero, Science Fiction
Shuri is a skilled martial artist, a genius, and a master of science and technology. But, she's also a teenager. And a princess. For centuries, the Chieftain of Wakanda (the Black Panther) has gained his powers through the juices of the Heart-Shaped Herb. Much like Vibranium, the Heart-Shaped Herb is essential to the survival and prosperity of Wakanda. But something is wrong. The plants are dying. No matter what the people of Wakanda do, they can't save them. And their supply is running short. It's up to Shuri to travel from Wakanda in order to discover what is killing the Herb and how she can save it and her home.
The Silence Between Us by Alison Gervais
Genres: Realistic Fiction, Romance
Deaf teen Maya has just moved across the country and must attend a hearing school for the first time. As if that wasn't hard enough, she also has to adjust to the hearing culture, which she finds frustrating–but also surprising–like when some classmates, including Beau Watson, take time to learn ASL. As Maya looks past graduation and focuses on her future dreams, nothing, not even an unexpected romance, will not derail her pursuits. But when people in her life–Deaf and hearing alike–ask her to question parts of her Deaf identity, Maya stands proudly, never giving in to the idea that her Deafness is a disadvantage.
Flygirl by Sherri L. Smith
Genres: Historical Fiction
Ida Mae Jones dreams of flight. Her daddy was a pilot and being black didn't stop him from fulfilling his dreams. But her daddy's gone now, and being a woman and being black are two strikes against her. When America enters the war with Germany and Japan, the Army creates the WASP, the Women's Airforce Service Pilots–and Ida suddenly sees a way to fly and help her brother stationed in the Pacific. But even the WASP won't accept her as a black woman, forcing Ida Mae to make the difficult choice of "passing, or pretending to be white to be accepted into the program. But while Ida Mae chases her dream, she must also decide who it is she really wants to be…
All descriptions adapted from the catalog. ck 07/19/2022.