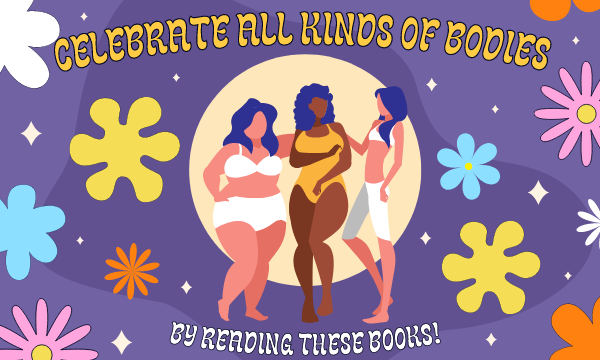 Fat Chance, Charlie Vega by Crystal Maldonado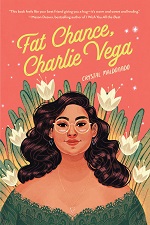 Genres: Realistic Fiction, Romance
Charlie Vega is smart, funny, and artistic. And fat. People sometimes have a problem with that last one. Especially her mom. Her mother and everyone else seem to think Charlie should be thinner, lighter, slimmer-faced, and straighter-haired. But there's one person who's always in Charlie's corner: her best friend Amelia. So when Charlie starts a tentative relationship with cute classmate Brian, the first worthwhile guy to notice her, everything is perfect until she learns one thing–he asked Amelia out first. So is she his second choice or what? Does he even really see her? UGHHH. Everything is now officially a MESS.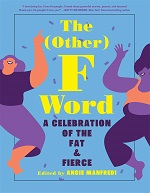 The (Other) F Word: A Celebration of the Fat & Fierce edited by Angie Manfredi
Genres: Nonfiction, Anthology
Chubby. Curvy. Fluffy. Plus-size. Thick. Fat. The time has come for fat people to tell their own stories. The (Other) F Word combines personal essays, prose, poetry, fashion tips, and art to create a relatable guide about body image and body positivity. This YA crossover anthology is meant for people of all sizes who desire to be seen and heard in a culture consumed by a narrow definition of beauty. This book combines the talents of renowned fat YA and middle-grade authors, as well as fat influencers and creators, and offers teen readers and activists of all ages a guide for navigating our world with confidence and courage.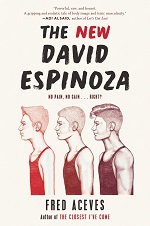 The New David Espinoza by Fred Aceves
Genres: Realistic Fiction
David Espinoza is tired of being messed with. When a video of him getting knocked down by a bully's slap goes viral at the end of junior year, David vows to use the summer to bulk up and wow everyone when school starts again in the fall. Soon David is spending all his time and money at Iron Life, a nearby gym that's full of bodybuilders. Frustrated with his slow progress, his life eventually becomes all about his muscle gains. As it says on the Iron Life wall, "What does not kill me makes me stronger." As David falls into the dark side of the bodybuilding world, pursuing his ideal body at all costs, he'll have to grapple with the fact that it could actually cost him everything.
Every Body Shines: Sixteen Stories About Living Fabulously Fat edited by Cassandra Newbould
Genres: Short Stories 
Fat girls and boys and nonbinary teens are: friends who lift each other up, heroes who rescue themselves, big bodies in space, intellects taking up space, and bodies looking and feeling beautiful. They express themselves through fashion, sports and other physical pursuits, through food, and music, and art. They are flirting and falling in love. They are loving to themselves and one another. With stories that feature fat main characters starring in a multitude of settings, and written by authors who live these lives too, this is truly a unique collection that shows fat young people the representation they deserve.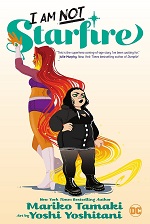 I Am Not Starfire by Mariko Tamaki
Genres: Graphic Novel, Superhero
As the daughter of Starfire, Mandy Koriand'r is constantly trying to get out from under the shadow of her famously bubbly mother. Mandy mostly spends her days at school avoiding Teen Titans superfans and trying to hide her feelings for the gorgeous and popular Claire. But when she is partnered with Claire for a school project, their friendship develops into something more and Mandy begins to gain self-confidence. Claire seems to like Mandy for just being Mandy, not the daughter of Starfire. But when someone from Starfire's past comes to disrupt Mandy's future, Mandy must finally make a choice: give up before the battle has even begun, or step into the unknown and risk everything.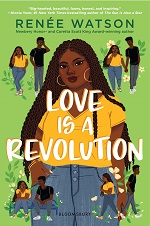 Love Is a Revolution by Renée Watson
Genres: Romance, Realistic Fiction
When Nala Robertson reluctantly agrees to attend an open mic night, she finds herself falling in instant love with Tye Brown, the MC. He's perfect, except Tye is an activist and is spending the summer putting on events for the community, and Nala would rather watch movies and try out the new seasonal flavors at the local creamery. In order to impress Tye, Nala tells a few tiny lies to have enough in common with him. As they spend more time together, sharing more of themselves, some of those lies get harder to keep up. As Nala falls deeper into keeping up her lies and into love, she'll learn all the ways love is hard, and how self-love is revolutionary.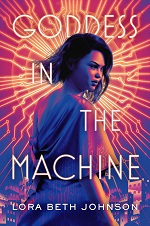 Goddess in the Machine by Lora Beth Johnson
Genres: Science Fiction
When Andra went into cryonic sleep for a trip across the galaxy, she did not expect to wake up in the far future on a foreign planet where she's regarded as a Goddess. She knows she's not special, but she'll play along if it means she can figure out what happened and how to get back to Earth. Zhade, the exiled prince of this planet, has other plans. He's hoping Andra will be the key to taking his rightful place on the throne, but if his people realize she can't actually save their dying planet, they'll kill her. With a vicious monarch on the throne and a city tearing apart at the seams, time is running out for Zhade and Andra to unlock the mystery of her fate, let alone find a way to unseat the king.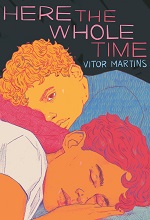 Here the Whole Time by Vitor Martins
Genres: Romance, Realistic Fiction
Felipe gets it–he's fat. He doesn't need anyone to remind him, which is, of course, what everyone does. But school break has arrived and finally he'll be able to spend some time away from his teasing classmates. Then Felipe's mom informs him that Caio, their neighbor, will be staying with them while his parents are on vacation. Felipe is distraught because A) he's had a crush on Caio for forever, and B) Felipe has many body image insecurities and NO idea how he's going to entertain Caio. Suddenly, his promised days of relaxation instead bring a whirlwind of feelings, forcing Felipe to dive into every unresolved issue he has with himself–but maybe, just maybe, he'll manage to win over Caio, too.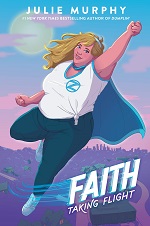 Faith: Taking Flight by Julie Murphy
Genres: Superhero, Mystery
Faith Herbert is a pretty regular teen. Of course, there is the small matter of recently discovering she can fly. Then, almost just as shockingly, her favorite teen drama relocates filming to her town, and she can't believe it when TV heroine Dakota Ash takes a romantic interest in her. But her fandom-fueled daydreams aren't enough to distract Faith from the fact that animals and people have begun to vanish from her town. Only Faith seems able to connect the dots to a new designer drug infiltrating her high school. But when her investigation puts her loved ones in danger, Faith will have to confront her past and use her newfound gifts—risking everything to save her friends and beloved town.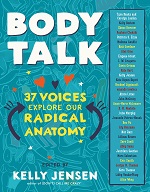 Body Talk: 37 Voices Explore Our Radical Anatomy edited by Kelly Jensen
Genres: Nonfiction, Anthology
It's time to bare it all about bodies! We all experience the world in a body, but we don't often don't take the time to explore what that really means. In Body Talk, a diverse group share essays, lists, comics, and illustrations about everything from size to scoliosis, from eating disorders to cancer, from sexuality to makeup. Together, they contribute a broad variety of perspectives on what it's like to live in their particular bodies—and how their bodies have helped to inform who they are and how they move through the world. Come on in, turn the pages, and join the celebration of our diverse, miraculous, beautiful bodies!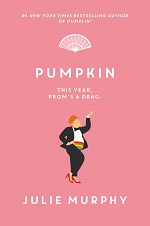 Pumpkin by Julie Murphy
Genres: Realistic Fiction, Romance
Waylon Brewer is fat, openly gay, and stuck in a small town. After throwing caution to the wind and creating an audition tape for his favorite TV drag show, Waylon is nominated for prom queen as a joke. But he's not alone; his twin sister's girlfriend also received a joke nomination for prom king. They decide together there's only one thing to do: run and leave high school with a bang. Along the way, Waylon discovers that there is a lot more to running for prom court than he thought, especially when he has to spend so much time with the infuriatingly cute Tucker Watson. With the help of some fellow queens, Waylon will need to learn that the best plan for tomorrow is living for today.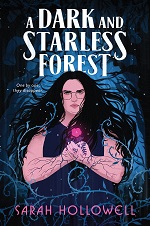 A Dark and Starless Forest by Sarah Hollowell
Genres: Fantasy, Paranormal
Because of their magic, Derry and her siblings live completely isolated from the world–until their eldest sister disappears. Jane and Derry swore to each other that they'd never go into the forest near their home again, but Derry is sure she saw Jane walk into the trees. When another sibling goes missing, Derry will risk everything to protect the family she has left. Even if that means returning to the forest that has started calling to Derry in her missing siblings' voices. As she spends more time amidst the trees, Derry's magic grows more powerful, as does the secret viciousness inside her. But saving her family might mean embracing the darkness. And that just might be the most dangerous thing of all.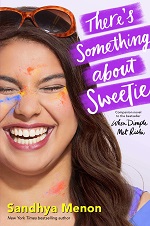 There's Something About Sweetie by Sandhya Menon
Genres: Romance, Realistic Fiction
Ashish Patel just got dumped, and even worse, his parents are annoyingly confident they could find him a better match. They insist that Ashish date an Indian-American girl, and in a moment of weakness, he agrees. The girl they set him up with, Sweetie Nair, is a formidable athlete, a loyal friend, and a great shower-singer. Oh, and she's fat. And Sweetie is tired of being told that she's lacking because she's fat. She's decided it's time to show the world (and herself) what she's really made of. So Ashish and Sweetie both have something to prove, but with each date they realize there's an unexpected magic growing between them. Can they find their true selves without losing each other?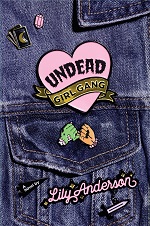 Undead Girl Gang by Lily Anderson
Genres: Fantasy, Mystery, Horror
Mila Flores and her best friend Riley have always been inseparable. There's not much excitement in their small town, leaving Mila and Riley to devote most of their time to amateur witchcraft. So when Riley and two mean girls die under suspicious circumstances, Mila refuses to believe the explanation that Riley was involved in a suicide pact. Instead, Mila does the impossible: she brings the girls back to life. Unfortunately, the girls have no recollection of their murders, but they do have unfinished business. Now, with only a week until the spell wears off, Mila must wrangle the distracted group of undead teens and work fast to discover their murderer…before the killer strikes again.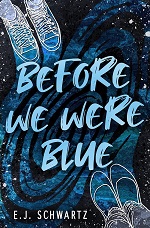 Before We Were Blue by E.J. Schwartz
Genres: Realistic Fiction
At a treatment center for eating disorders, the first thing Shoshana Winnick does is attach herself to vibrant but troubled Rowan Parish. Shoshana—a reality-TV-famous cheerleader—was recently starving herself so she didn't ruin her infamous tumbling skills, but Rowan has always been anorexic thanks to her mother's twisted guidance. Soon Shoshana and Rowan develop a fierce intimacy that neither girl expects. They dream of freedom, but going home means separating and returning to all their existing challenges. The closer Shoshana and Rowan become, the more they cling to each other—and their destructive patterns. Ultimately, they will have to choose: their recovery or their relationship.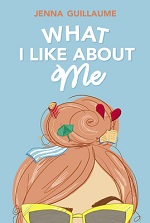 What I Like About Me by Jenna Guillaume
Genres: Realistic Fiction, Humor
The last thing sixteen-year-old Maisie Martin thought she'd be doing this summer is entering a beauty pageant. Not when she's spent most of her life hiding her body from everyone. Not when her Dad is AWOL for Christmas and her gorgeous older sister has returned to rock Maisie's shaky confidence. And then her best friend starts going out with the boy she's always loved. But Maisie's got something to prove. As she writes down all the ways this summer is going from bad to worse in her school-assignment journal, what starts as a homework torture-device might just end up being an account of how Maisie didn't let anything, or anyone, hold her back…
Further Resources:
All descriptions adapted from the catalog. ck 02/14/2022. updated 9/10/2022.