Non-Fiction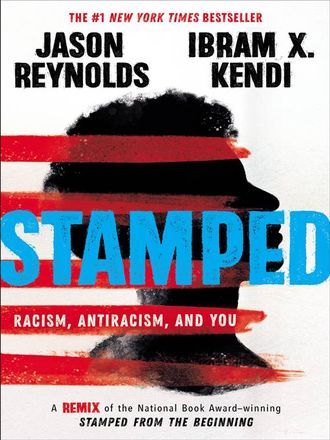 Stamped–Racism, Antiracism, and You: A Remix of the National Book Award-winning Stamped from the Beginning by Jason Reynolds & Ibram X. Kendi (OverDrive)
This remarkable reimagining of Dr. Ibram X. Kendi's National Book Award-winning Stamped from the Beginning reveals the history of racist ideas in America, and inspires hope for an antiracist future. It takes you on a race journey from then to now, shows you why we feel how we feel, and why the poison of racism lingers.
Looking for some fun reads? Sci-Fi? Fantasy? Adventure? Romance? Sports? Check out these other stories by Black authors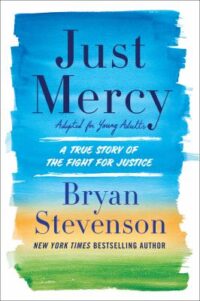 Just Mercy: A True Story of A Fight for Justice by Bryan Stevenson – Young Reader's edition
Bryan Stevenson delves deep into the broken U.S. justice system, detailing from his personal experience his many challenges and efforts as a lawyer and social advocate, especially on behalf of America's most rejected and marginalized people. He recounts many and varied stories of his work as a lawyer in the U.S. criminal justice system on behalf of those in society who have experienced some type of discrimination and/or have been wrongly accused of a crime and who deserve a powerful advocate and due justice under the law.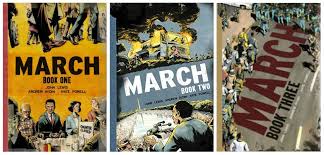 March: Book One by John Lewis (Hoopla/OverDrive)
March: Book Two by John Lewis(OverDrive)
March: Book Three be John Lewis (OverDrive)
March is a vivid first-hand account of John Lewis' lifelong struggle for civil and human rights, meditating in the modern age on the distance traveled since the days of Jim Crow and segregation. Book One spans John Lewis' youth in rural Alabama, his life-changing meeting with Martin Luther King, Jr., the birth of the Nashville Student Movement, and their battle to tear down segregation through nonviolent lunch counter sit-ins, building to a stunning climax on the steps of City Hall.
In Book Two, John Lewis and his fellow Freedom Riders board a bus into the vicious heart of the deep south, they will be tested like never before.
Book Three covers the pivotal years 1963-1965. Lewis and an army of young activists launch a series of innovative campaigns, including the Freedom Vote, Mississippi Freedom Summer, and the marches from Selma to Montgomery.
This Book Is Anti-Racist: 20 Lessons on How to Wake Up, Take Action, and Do The Work by Tiffany Jewell and Aurelia Durand
Fiction About Justice & Black Lives Matter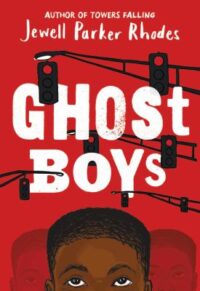 Ghost Boys by Jewell Parker Rhodes
Twelve-year-old Jerome is shot by a police officer who mistakes his toy gun for a real threat. As a ghost, he observes the devastation that's been unleashed on his family and community in the wake of what they see as an unjust and brutal killing.
Soon Jerome meets another ghost: Emmett Till, a boy from a very different time but similar circumstances. Emmett helps Jerome process what has happened, on a journey towards recognizing how historical racism may have led to the events that ended his life. Jerome also meets Sarah, the daughter of the police officer, who grapples with her father's actions.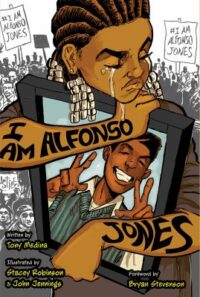 I Am Alfonso Jones by Tony Medina
The ghost of fifteen-year-old Alfonso Jones travels in a New York subway car full of the living and the dead, watching his family and friends fight for justice after he is killed by an off-duty police officer while buying a suit in a Midtown department store.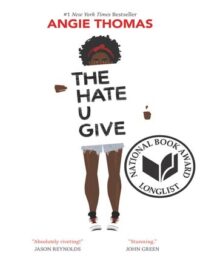 The Hate U Give by Angie Thomas (Overdrive ebook & audio)
After witnessing her friend's death at the hands of a police officer, Starr Carter's life is complicated when the police and a local drug lord try to intimidate her in an effort to learn what happened the night Kahlil died.
Read or listen to book or watch the movie adaptation.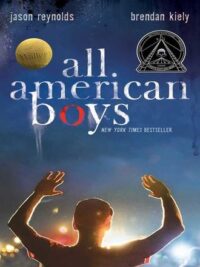 All American Boys by Jason Reynolds and Brendan Kiely (OverDrive)
When sixteen-year-old Rashad is mistakenly accused of stealing, classmate Quinn witnesses his brutal beating at the hands of a police officer who happens to be the older brother of his best friend. Soon the beating is all over the news and the police officer is getting threatened with accusations of prejudice and racial brutality. Quinn refuses to believe that the man who has basically been his savior could possibly be guilty. But then Rashad is absent. And absent again. And again. And the basketball team–half of whom are Rashad's best friends–start to take sides. As does the school. And the town. Simmering tensions threaten to explode as Rashad and Quinn are forced to face decisions and consequences they had never considered before.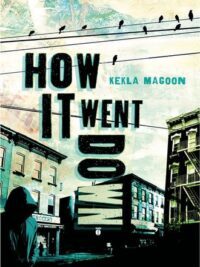 How it Went Down by Kekla Magoon (OverDrive)
When sixteen-year-old Tariq Johnson dies from two gunshot wounds, his community is thrown into an uproar. Tariq was black. The shooter, Jack Franklin, is white.
In the aftermath of Tariq's death, everyone has something to say, but no two accounts of the events line up. Day by day, new twists further obscure the truth. Tariq's friends, family, and community struggle to make sense of the tragedy, and to cope with the hole left behind when a life is cut short. In their own words, they grapple for a way to say with certainty: This is how it went down.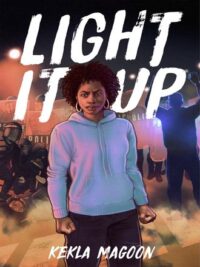 Light It Up by Kekla Magoon (OverDrive)
A girl walks home from school. She's tall for her age. She's wearing her winter coat. Her headphones are in. She's hurrying. She never makes it home.
In the aftermath, while law enforcement tries to justify the response, one fact remains: a police officer has shot and killed an unarmed thirteen-year-old girl. The community is thrown into upheaval, leading to unrest, a growing movement to protest the senseless taking of black lives, and the arrival of white supremacist counter demonstrators.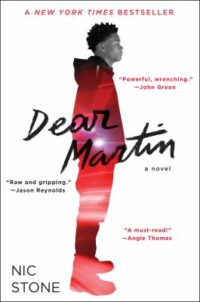 Dear Martin by Nic Stone (OverDrive)
Justyce McAllister is a good kid, an honor student, and always there to help a friend–but none of that matters to the police officer who just put him in handcuffs.
Despite leaving his rough neighborhood behind, he can't escape the scorn of his former peers or the ridicule of his new classmates.
Then comes the day Justyce goes driving with his best friend, Manny, windows rolled down, music turned up–way up, sparking the fury of a white off-duty cop beside them. Words fly. Shots are fired. Justyce and Manny are caught in the crosshairs. In the media fallout, it's Justyce who is under attack.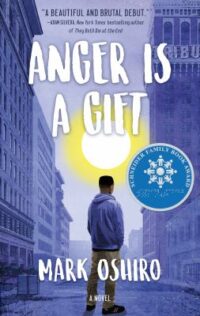 Anger Is A Gift by Marc Oshiro (OverDrive & Hoopla audio)
Six years ago, Moss Jefferies' father was murdered by an Oakland police officer. Along with losing a parent, the media's vilification of his father and lack of accountability has left Moss with near crippling panic attacks. Now, in his sophomore year of high school, Moss and his fellow classmates find themselves increasingly treated like criminals their own school. New rules. Random locker searches. Constant intimidation and Oakland Police Department stationed in their halls. Despite their youth, the students decide to organize and push back against the administration. When tensions hit a fever pitch and tragedy strikes, Moss must face a difficult choice: give in to fear and hate or realize that anger can actually be a gift.
6/3/2020/bd