Banned Book Week shines a light on attempts to ban or restrict access to books in communities across the country. The American Library Association's Office of Intellectual Freedom compiles lists of challenged books in order to inform the public about censorship efforts that affect libraries and schools.
Here's a complete list of book titles that were banned, challenged, or restricted during in 2019.
Here's a list of the Top 100 Most Banned and Challenged Books: 2010-2019
Here are twenty books for teens that were challenged or banned in 2019. Check them out and decide for yourself.
Assassination classroom. 1, Time for assassination by Yusei Matsui

The students in class 3-E are the misfits in their school, but their teacher is a powerful, tentacled extraterrestrial who has already damaged the Moon and threatens the Earth, and they have been assigned to assassinate him. Available in Teen Manga and DVD-Animated..
Beyond Magenta: Transgender Teens Speak Out by Susan Kuklin 
Takes an honest look at the lives, loves, and struggles of transgender teens. Author and photographer Susan Kuklin met and interviewed six transgender or gender-neutral young adults and used her considerable skills to represent them thoughtfully and respectfully before, during, and after their personal acknowledgment of gender preference.  Available in print and OverDrive/Libby.
Writing letters to the late Dr. Martin Luther King Jr., seventeen-year-old college-bound Justyce McAllister struggles to face the reality of race relations today and how they are shaping him. Available in Teen Fiction, Teen Audiobooks, OverDrive/Libby ebook and eaudio.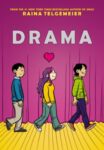 Drama by Raina Telgemeier
Callie rides an emotional roller coaster while serving on the stage crew for a middle school production of Moon over Mississippi as various relationships start and end, and others never quite get going. Available in Teen Graphic Novels and OverDrive/Libby
A true story of one afternoon on the bus ride home from school, a single reckless act left Sasha severely burned, and Richard charged with two hate crimes and facing life imprisonment. The case garnered international attention, thrusting both teenagers into the spotlight. Available in print, OverDrive/Libby, Hoopla audio book.
Friends With Boys by Faith Erin Hicks
After an idyllic childhood of homeschooling with her mother and three older brothers, Maggie enrolls in public high school, where interacting with her peers is complicated by the melancholy ghost that has followed her throughout her entire life. (Available in Teen Graphic Novels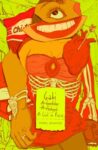 Gabi, A Girl in Pieces by Isabel Quintero
Sixteen-year-old Gabi Hernandez chronicles her senior year in high school as she copes with her friend Cindy's pregnancy, friend Sebastian's coming out, her father's meth habit, her own cravings for food and cute boys, and especially, the poetry that helps forge her identity.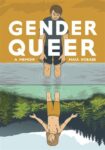 Maia's intensely cathartic autobiography charts eir journey of self-identity, which includes the mortification and confusion of adolescent crushes, grappling with how to come out to family and society, bonding with friends over erotic gay fanfiction, and facing the trauma and fundamental violation of pap smears. Available in Hoopla.
Fifteen-year-old Shay is trying to cope with being overweight and getting bullied in school, but when she falls in love with mysterious Blake, insecure Shay needs the help of her two best friends to make love prevail. Available in Teen Fiction and Hoopla.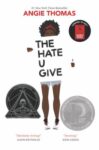 The Hate U Give by Angie Thomas
After witnessing her friend's death at the hands of a police officer, Starr Carter's life is complicated when the police and a local drug lord try to intimidate her in an effort to learn what happened the night Kahlil died. Available in Teen Fiction, Teen Audio, OverDrive ebook and eaudio, Hoopla ebook and eaudio. Also DVDs of the movie adaptation.
It gets better : coming out, overcoming bullying, and creating a life worth living by Dan Savage
A collection of original essays and expanded testimonials written to teens from celebrities, political leaders, and everyday people. While many of these teens can't see a positive future for themselves, we can. We can show LGBT youth the kind of happiness, potential, and satisfaction their lives hold if they can just get through these early years. Available in Teen Nonfiction and Hoopla audio book.
Killing Mr. Griffin by Lois Duncan
A teenager casually suggests playing a cruel trick on the English teacher, but did he intend it to end with murder? Available in teen fiction, OverDrive/Libby, & Hoopla audiobook.
The Prince and The Dressmaker by Jen Wang
When Prince Sebastian confides in his dressmaker friend Frances that he loves to masquerade at night as the fashionable Lady Crystallia, Frances must decide if Sebastian's secret is worth a lifetime of living in the shadows. Available in Teen Graphic Novel and OverDrive/Libby.
Rani Patel in Full Effect by Sonia Patel
Rani Patel, almost seventeen and living on remote Moloka'i island, is oppressed by the cultural norms of her Gujarati immigrant parents but when Mark, an older man, draws her into new experiences red flags abound. Available in Teen Fiction, OverDrive/Libby, and Hoopla.
Redwood and Ponytail by K.A. Holt
Told in verse in two voices, with a chorus of fellow students, this is a story of two girls, opposites in many ways, who are drawn to each other; Kate appears to be a stereotypical cheerleader with a sleek ponytail and a perfectly polished persona, Tam is tall, athletic and frequently mistaken for a boy, but their deepening friendship inevitably changes and reveals them in ways they did not anticipate. Available in Youth Fiction, OverDrive Libby ebook and eaudio, Hoopla ebook.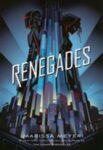 As she nears her goal of avenging the Renegades, who overthrew the villains to establish order from ruin, Nova grows close to justice-seeking Renegade Adrian, but her allegiance to the villains could destroy them both. Available in Teen Fiction, Teen Audiobooks, OverDrive/Libby ebook & eaudio, and Hoopla eaudio.
Simon vs. the Homo Sapiens Agenda by Becky Albertalli
Sixteen-year-old, not-so-openly-gay Simon Spier is blackmailed into playing wingman for his classmate or else his sexual identity–and that of his pen pal–will be revealed. Available in Teen Fiction, Teen Audiobooks, OverDrive/Libby ebook & eaudio, and Hoopla eaudio. Also DVD of the movie adaptation.
This book is gay by Juno Dawson
Lesbian. Bisexual. Queer. Transgender. Striaght. Curious. This book is for everyone, regardless of gender or sexual preference. This book is for anyone who's ever dared to wonder. Available in Teen Fiction, Teen Audiobooks, OverDrive/Libby ebook & eaudio, and Hoopla ebook & eaudio.
This Is Where It Ends by Marieke Nijkamp
Minutes after the principal of Opportunity High School in Alabama finishes her speech welcoming the student body to a new semester, they discover that the auditorium doors will not open and someone starts shooting as four teens, each with a personal reason to fear the shooter, tell the tale from separate perspectives. Available in Teen Fiction, OverDrive/Libby ebook, and Hoopla ebook.
This One Summer by Mariko Tamaki
Rose and her parents have been going to Awago Beach since she was a little girl. It's her summer getaway, her refuge. Her friend Windy is always there, too, like the little sister she never had, completing her summer family. But this summer is different. Rose's mom and dad won't stop fighting, and Rose and Windy have gotten tangled up in a tragedy-in-the-making in the small town of Awago Beach. It's a summer of secrets and heartache, and it's a good thing Rose and Windy have each other. Available in Teen Graphic Novel and OverDrive/Libby.
Totally Awkward Love Story by Tom Ellen & Lucy Ivison
Hannah and Sam are searching for The One–but over the summer, a series of hilarious misunderstandings prevent them from realizing that they're It for one another. Available in Teen Fiction, OverDrive/Libby ebook, and Hoopla audio book.
Two Boys Kissing by David Levithan
A chorus of men who died of AIDS observes and yearns to help a cross-section of today's gay teens who navigate new love, long-term relationships, coming out, self-acceptance, and more in a society that has changed in many ways. Available in Teen Fiction, OverDrive/Libby ebook & audio book
updated 11/11/2020 mk