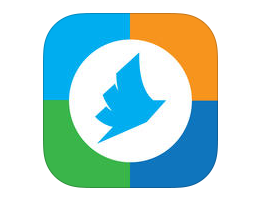 The PrinterOn App is a free app that will allow you to print from anywhere, using any device.
Use the PrinterOn app, available for ios or android.
• Visit your device's app store; install and launch the PrinterOn app. There are several specialty PrinterOn Apps, choose the icon that looks like the picture above.
• Click "No Printer Selected" across the bottom.
• Click "Search" then search for Plymouth District Library.
• Click either "Black &White" or "Color" printer and save.
• Within the app, you can select to print: Documents, Email, Photo, or Web. Follow the prompts.
• Enter an email address, click "Done" then click on the check mark. (You will receive a notice that the job started, and shortly after another message stating "Job Success".
• Come to the Plymouth District Library within 48 hours and release your print job to the printer from one of our print release stations by entering your email address.
 1/23/2021/mk