Our Michigan page also has information that might be useful to the genealogy researcher and more newspapers are available at our Newspapers and Periodicals Page.
​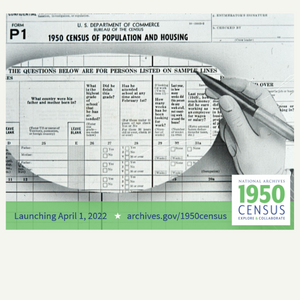 The 1950 Census is finally available!
---
With over 1.2 billion records in over 3,000 databases, Ancestry is the most comprehensive online source of information for genealogy and local history.
As of January 2022, Ancestry Library edition will not be available remotely. Access will only be available inside the library.
Family Search is a genealogy organization operated by The Church of Jesus Christ of Latter-day Saints. It was previously known as the Genealogical Society of Utah and is the largest genealogy organization in the world. Family Search also has extensive research support and helps, especially for the beginner.
Fold3 provides convenient access to military records, including the stories, photos, and personal documents of the those who served. Military records from Canada, UK, New Zealand, and Australia are also included.
Available for Plymouth card holders only.
 Heritage Quest  is a comprehensive treasury of American genealogical sources. Heritage Quest has Freedman's Bank records. This collection contains important clues to tracing African American ancestors and researching the Reconstruction Era.
Available for Plymouth card holders only.
The local history portal contains indexes and searchable content of newspapers. There is also a cemetery index for the Plymouth and Plymouth Township.
My Heritage Library Edition: Family history/genealogy resource including more than 6 billion historical ​records. Over 2 billion family trees.
Plymouth's local papers: The Plymouth Observer and the Community Crier are digitized and searchable. In addition, microfilm of these papers is available on the upper level of the library.
The Detroit Free Press is the largest daily newspaper in Detroit, Michigan. The paper started publication in 1831. Plymouth cardholders only.
Detroit Free Press (1999-Current)
Detroit Free Press (Historical 1831-1922)
Detroit Free Press (Historical 1923-1999)
Michigan Based Resources
Archives of Michigan The Michigan History Center
is responsible for preserving the records of Michigan government and other public institutions. The collections also include documents, maps, photographs and film from private individuals and organizations.
Library of Michigan
The Library of Michigan is home to a great diversity of local history materials, including: city and county histories, newspaper clippings, vital records, cemetery transcripts, and plat maps. With a state library card, you can also access additional databases: Black Life in America (NewsBank), Newspapers.com, Michigan Chronicle, and others. Library of Michigan also offers remote classes on genealogy research.
For information on obtaining a Library of Michigan card, please click here.
Michigan GenWeb (Part of the US GenWeb Project)
---
Additional Genealogy Resources
Cyndi's List
Genealogist and author Cyndi Ingle, created a categorized & cross-referenced index to genealogical resources on the Internet. This free site has over 300,000 categorized links to assist researchers.
US Gen Web Project
Organized by state, USGenWeb sites can provide historical information about places, local cemeteries, local birth, and death records, obituaries, and links to other genealogy resources related to the area and its people.
Allen County Public Library Genealogy Center, Fort Wayne, IN
One of the largest collections of research material in the Midwest.
---
African American Genealogy
AAHGS Afro-American Historical and Genealogical Society
Our primary goals are to promote scholarly research, provide resources for historical and genealogical studies, create a network of persons with similar interests, and assist members in documenting their histories.
Freedman's Bureau Online
Established by the government in 1865, the Freedman's Bureau supervised all relief and educational activities relating to refugees and freedmen, including issuing rations, clothing and medicine. Records pertain to Confederate and border states.
Afrigeneas
AfriGeneas is a site devoted to African American genealogy, to researching African Ancestry in the Americas in particular and to genealogical research and resources in general. The site contains data from wills, slave manifests, family bibles, and much more.
Christine's African American Genealogy Website
This site contains property tax rolls, fugitive slave lists, wills, and other relevant documents.
---
Jewish Genealogy
Arolsen Archives
International Center of Nazi Persecution maintains an archive of selected photos, documents, artifacts related to Nazi persecution during and after World War II.
JewishGen
JewishGen serves as the global home for Jewish genealogy. Featuring unparalleled access to millions of records, it offers unique search tools, along with opportunities for researchers to connect with others who share similar interests.
Sephardic Genealogy
This site collects links to research related to Sephardic genealogy.
4/14/2022-mk