Inside the Creative Lab you can find a Cricut, Large Format Printer, and two 3D printers. The Creative Lab is open on Thursdays for all to use.
Large format and 3D print requests are accepted 24/7. The large format printer & 3D printers are operated by staff only.
You can submit print requests to print@plymouthlibrary.org. See below for further details.
Precisely cut vinyl and card stock to create cards and finish other cool craft projects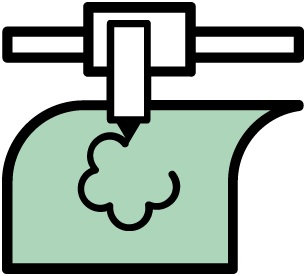 Print oversize projects like posters and banners on our large format printer.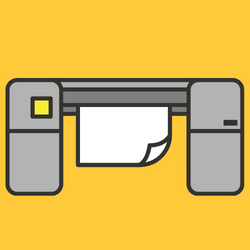 Print 3d objects in PLA plastic on the library's Prusa Mini 3D printers!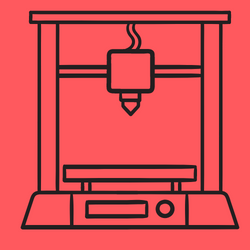 Adobe Creative Suite
Each computer in the computer lab on the upper level has access to the full Adobe Creative Suite. Bring photos to edit, videos to compile, audio to adjust, and your imagination for digital designs!
Tutorials & Resources
Linked In Learning offers a range of courses in technology, business, art/photography, and design. There are also learning paths for courses to take you from novice to expert and prepare for a new career.
Note: If you set up your account through the LinkedIn Learning app, rather than use the service through a web browser, you will be prompted for the LibraryID, which is plymouthlibrary.
(Plymouth cardholders only)
Adobe Help Center is the place for tutorials and guides for all types of Creative Cloud applications. Tutorials, PDFs, sample projects, and other helpful materials can be found here.
Cricut Cutter
What is a Cricut?
A Cricut is a cutting machine that can cut all sorts of designs from materials like paper, vinyl, card stock, and iron-on transfers. It has software you can use to create your own design for cutting. You can also download other designs online in an SVG file format. The cutting mat is 12 x 12 inches and the type of Cricut is a Cricut Explore Air
Does the library provide supplies?
The library will provide a cutting blade and mat for use in the Cricut. We also have very limited supplies of vinyl and iron-on transfer. You are encouraged to bring your own cutting media. Costs for the library's cutting media are listed below:
12 x 12 inch Vinyl – $1.10
12 x 12 inch Iron-on Transfer – $1.20
How do I use the Cricut?
You can find tutorials for using the Cricut at https://heyletsmakestuff.com/cricut-explore/
Large Format Printing
How can I print my large document?
To request a printing of a large document, please email print@plymouthlibrary.org and use Large Format Print in the subject line.
Attach a PDF version of your document to the email. One side of the document must be smaller than 36″.
Indicate the final print size you would like your document to be.
Any other relevant information pertaining to the print (i.e., number of copies).
A staff member will review your file and then email you regarding the expected cost.
After you approve the cost a staff member will place your file in our large format printing queue.
Expect a few days for files to be processed through our print queue.
How much does it cost to print a large document?
Color prints cost $0.40 per inch of the 36″ wide roll that is used. Black and white costs $0.20 per inch of 36″ wide roll that is used.
Large Format Printing Tips
The large format printer has a roll of paper that is 36″ wide. It can print documents that have at least one side that is less than 36″.
While we can print JPG or PNG files it is strongly recommended that you save your document in the PDF format before printing in order to guarantee the best possible experience.
Please us a minimum of 150 ppi (pixels per inch) to avoid pixelated appearance.
3D Printing
3-D Printing Information
How much does 3D printing cost?
It costs $0.10 per gram of filament plus $1 per hour of printing.
Most objects that can be printed in 4 hours cost less than $10.
What is the equipment/software you are using?
We have Prusa Mini filament printers. We are using the Prusa Slicer software that is available for free at prusa3d.com.
3 D Printing Colors
To request a 3D print:
please email print@plymouthlibrary.org
Place "3D Print" in the subject line
An attached .STL file or a link to the file.
Color preference (subject to availability)
Any other relevant information pertaining to the print (i.e., number of copies or size requirements).
A staff member will review your file and email you to let you know the cost. Once you approve the cost, staff will place your file in our 3D printing queue.