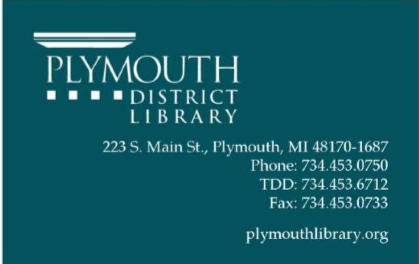 "A library card is the start of a lifelong adventure."
― Lilian Jackson Braun
The library has pick up on the porch which you can arrange once your holds are in. Click on the Pickup on the Porch button for more information. Home delivery is also available for those patrons that cannot make it to the library due to a permanent or temporary disability. Download the free PDL app so you can take your library with you!
Getting a Library Card
If you are a resident of or work in either the City of Plymouth or Plymouth Township, you are eligible for a library card. Students in Plymouth-Canton schools are also eligible for a library card. If you are under age 18, you need to have a parent/guardian give permission. You can come in person or apply online for a temporary card. Please allow 1-5 business days to receive an email with your card information. The physical card will be mailed to you and will expire in 3 months. Please visit the Library within that 3 month time period with valid identification to update the card to a full 3 year privilege.
Non-residents are eligible to register at the library using their home library card. Plymouth District Library is a participant in MI Library Card and a reciprocating member of The Library Network. Non-resident cardholders can use all library collections except for certain databases, and electronic media. Please contact the library for assistance or email us using this form. Details about library cards and lending are available in our circulation policy.
---
Automatic Renewals
If your account is in good standing, and your checkouts are eligible for renewal, we will automatically renew them one day prior to their due date. You will receive an email notice with details on which checkouts were able to be renewed. Click here for more details!
---
Interlibrary Loan
Plymouth District Library participates in statewide lending through the Michigan Electronic Library (MeL). Books and other materials can be requested through the MeLcat catalog available here or at any service desk.
---
Lending Periods
Generally, books, video games, and audiobooks check out for 3 weeks.
DVDs, magazines, and music CDs check out for one week.
Many items are eligible for automatic renewal. Certain technology or specialty items have different lending schedules. For a complete list of fines and fees, click here for a detailed list of lending periods and fines or contact the library for additional information.
---